'Lord' Davenport: 'Taking chances and a life of adventure'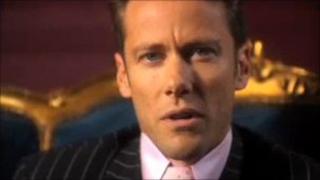 The personal website of jailed "Lord" Edward Davenport makes for an interesting read.
Davenport, 45, of central London, is one month into a near-eight-year sentence over his role in a multimillion-pound fraud.
Along with several accomplices, he tricked companies into handing over millions of pounds to arrange loans that never materialised.
But before his world came crashing down, Davenport was a wealthy socialite and darling of the London party scene.
Or so his website would have you believe.
But before you get to the online biography, the photographs of Davenport with a genuinely dazzling selection of A list celebrities catch the attention.
Mick Jagger. Victoria Beckham. Jon Bon Jovi. Paris Hilton. Cliff Richard. Philip Green. Sarah Ferguson. Jean Claude Van Damme. Russell Brand. Jerry Hall. Ozzy Osborne. Hugh Grant. Simon Cowell. Al Pacino.
The list goes on. He is even pictured with Justice Secretary Kenneth Clarke.
We are told the actual writing - which is in the third person - is the copyright of Lord Edward Davenport.
"Edward Davenport is unique," the website claims. "Davenport is one of Britain's most flamboyant entrepreneurs, a businessman renowned for taking chances and a life of adventure.
"He lives the high life in Monaco and London, rubbing shoulders with celebrity friends such as Jean-Claude Van Damme and Fifty Cent.
"He has a jet, and a collection of sports cars which would make any man jealous - including a Ferrari 360 Spider and a Lamborghini."
'Shrewdest investor around'
It continues: "Yes, he takes risks and some more traditional investors are not used to this approach.
"But every risk Edward Davenport ever takes is calculated right down to the most tiny detail.
"He does not gamble when he cannot win which is why he is known as one of the shrewdest investors around."
There is no denying he took risks.
But "Lord" Davenport is not listed in Debrett's Peerage and Baronetage.
So is it possible to separate the fact from the promotional hyperbole?
Who is the man the London Evening Standard once called "tall, slim and Draculine with a penchant for sharp suits and Rolex watches"?
Davenport is an only child whose father died in 2002 and who was supported in court by his 78-year-old mother.
He first came to prominence as a party organiser in London.
Nicknamed "Fast Eddie", he went on to purchase the Sierra Leone High Commission, a mansion on London's prestigious Portland Place.
A spokesman for the venue said it had more than 100 rooms.
In a YouTube promotional video, Davenport says he acquired it cheaply when the African country's government was in a parlous financial state.
The mansion was used to film the Oscar-winning King's Speech movie, with a Kate Moss photoshoot reportedly taking place there too.
Nobody answered when the BBC called around on Wednesday afternoon - but people could be seen relaxing in a grand room on the first floor.
And a local fashion worker - leaving the property after a photoshoot - said: "It's a really nice place - there are several fireplaces insured for more than one million pounds each."
Of Davenport, he said: "He is a friendly enough guy. He is very well spoken.
"He is stinking rich."
He continued: "We knew he was in trouble - it was a drawn out affair. One moment he was here at the house the next he was gone."
According to his website, the flamboyance stretched beyond British shores.
It continues: "Monaco, the playground of the rich and famous, is where Edward Davenport has his home.
"Those grand surroundings typify his glamourous [sic] lifestyle."
'Fast and louche'
The "press area" of the website reveals an impressive array of cuttings in magazines such as Tatler, focussing on his wealth and glamorous lifestyle.
"Fast and Louche", reads one headline.
But in reality, Davenport was a man with previous convictions.
In 1990, he was found guilty of attempting to obtain services by deception and fined.
He has also been convicted of VAT offences, receiving a suspended nine month jail sentence.
The website's take: "His reputation is of the utmost importance and Davenport goes to extremes to ensure he is scrupulously fair in all his dealings."
Some of his victims will disagree.
These include the Indian businessman who, the court heard, now owes £9.4m following his encounter with Davenport.
Davenport and his accomplice Peter Riley, 64, of Brentwood, Essex, were each jailed for seven years and eight months for conspiracy to defraud.
Three others convicted separately will be sentenced in November.