Victoria Station murder accused 'supplied gang's knives'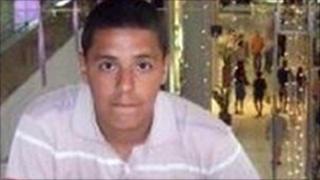 A woman accused of murdering a 15-year-old boy in London's Victoria Station supplied knives to the gang that attacked him, a court has heard.
Sofyen Belamouadden died after being chased into the station last March.
The Old Bailey heard Victoria Osoteku, 19, was at "the heart" of the attack - despite not striking the fatal blow.
The teenager, from Deptford, south-east London, denies murder, conspiracy to cause grievous bodily harm and violent disorder.
The A-level student, then 18, allegedly sent messages arranging the clash between pupils from rival schools.
'Focal point'
The court heard she joined another pupil in buying a set of kitchen knives which were handed out to a group of up to 20 youths.
The hooded and masked pupils then chased Sofyen into the station during rush hour.
He was cornered in the Underground station and attacked, before falling down a flight of stairs into the ticket hall.
Mark Heywood QC, prosecuting, said: "She was one of those who set up and organised the confrontation that led to the death.
"Her responsibility for the death is very great indeed, even though it was others that delivered the final fatal blows that led to Sofyen Belamouadden's death."
Mr Heywood said she and one other pupil were the "focal point" of communication leading up to the attack.
He added: "In that way their responsibility for what followed was greater."
The trial continues.