Leslie Crowther's brother pleads guilty to manslaughter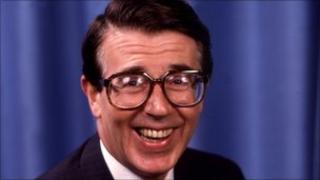 The 88-year-old brother of the late TV star Leslie Crowther has pleaded guilty to the manslaughter of his wife the grounds of diminished responsibility.
Winifred Crowther, 83, was stabbed to death at the home she shared with her husband Frank in Cheam, south London, in December 2010.
Crowther's defence team told the Old Bailey the killing was "totally out of character".
He was ordered to be detained in a psychiatric hospital.
Judge Gerald Gordon said it was not necessary to impose a restriction on when he could be released because he was now too frail to be a danger to others.
The court heard Crowther had become depressed because his wife's mental and physical condition had deteriorated.
Mrs Crowther was found covered in blood and had suffered 58 stab wounds, said Philip Bennetts QC, prosecuting.
There were two knives on the bedside table and one on the floor of the bedroom of their home in Lumley Road.
Crowther was taken to hospital where he was found to have taken an overdose of drugs in a suicide attempt.
Mr Bennetts said Crowther could not remember killing his wife but later told a doctor: "I felt sorry for her because I loved her so. I could not bear to see her suffer."
Leslie Crowther hosted The Price is Right and other television programmes. He died in 1996 aged 63.