'Meow meow' mephedrone drug arrests in Wembley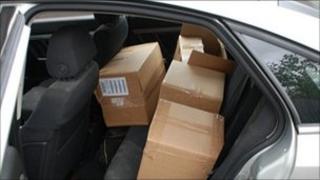 Four cardboard boxes holding 51kg (112lbs) of the drug known as "meow meow" have been found in a car stopped by police in north-west London.
The containers of mephedrone were inside a silver Vauxhall Vectra which was being searched in Sudbury Court Drive, Wembley, on Friday afternoon.
They had an estimated resale value of more than £100,000, Scotland Yard said.
The 26-year-old driver was arrested on suspicion of possessing a Class B drug with intent to supply.
Police said they were confident they had "disrupted a significant supply" of the substance.