Bexleyheath murder: Nicola Edgington 'unfit' for court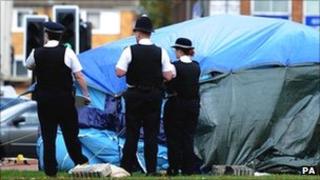 A 31-year-old charged with the murder of a woman stabbed in south-east London has "extreme" mental health problems, Greenwich Magistrates' Court has heard.
Nicola Edgington, of Ambedkar House, Greenwich, is accused of stabbing Sally Hodkin, 59, to death in Broadway, Bexleyheath, on Monday.
Ms Edgington is also accused of the attempted murder of Kerry Clark, 23, who was stabbed at a bus stop earlier.
A psychiatrist who met the accused said she was not fit to appear at the court.
Dr Amit Chatterjee told the court: "I had the opportunity to meet her this morning.
"She does have extreme mental health problems.
"I don't think she is fit to attend court in her mental state."
A Serco security guard, Lisa Moriarty, said she was reluctant to bring the woman to the court hearing.
"At the moment she is in a cell with three officers but I am a bit reluctant to bring her up with everyone around," she said.
"She seems to be very agitated with people in the cells, she's getting very agitated and uppity."
Callum Haddow, the lawyer representing the accused, was told her case would next be heard at the Old Bailey on Thursday.
A plea and case management hearing has also been scheduled for 17 January.
A post-mortem examination at Princess Royal University Hospital on Tuesday gave Sally Hodkin's cause of death as knife wounds to the neck.