TfL owed £9.6m in London pollution fine by trucks and buses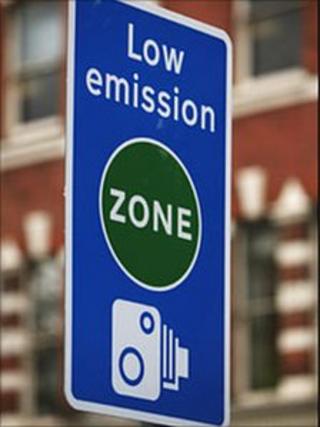 Truck and bus operators have racked up unpaid fines worth £9.6m for failing to pay a pollution charge in London.
The most heavily polluting vehicles must pay £200 a day to enter Greater London's Low Emission Zone (LEZ).
Foreign operators owe £6.2m while British vehicles owe £3.4m since 2008, Commercial Motor magazine has found.
Transport for London (TfL), which introduced the fee in 2008, said recovering money from foreign operators could be "problematic".
Large vehicles which do not meet the Euro III standard for particulate emissions are required to pay a daily charge of £200 and failure to pay the tariff will land them with a £1,000 fine, TfL said.
Between January and July this year TfL issued 2,700 penalty charge notices (PCN) to foreign operators, worth £2.7m, of which about £2m has not been paid, a Freedom of Information request made by the magazine revealed.
Vehicles registered in the UK were served 2,504 PCNs this year, amounting to £2.5m, of which £971,000 remains unpaid.
TfL figures show that in 2008 foreign vehicles were fined £1.15m, of which £193,000 was unpaid, and in 2009 unpaid fines stood at £1.72m, rising to £2.39m last year.
UK vehicles had PCNs worth £7.26m in 2008, of which £44,000 was not paid, and in 2009 outstanding fines stood at £1.6m, falling to £793,000 in 2010.
Paul Cowperthwaite, head of contracted services for traffic enforcement at TfL, said: "Recovering unpaid penalties incurred by vehicles registered in some countries can be problematic and is a well-known UK-wide problem.
"TfL has arrangements in place with a Europe-wide debt recovery agency for the service of Penalty Charge Notices to recover penalties incurred by non-UK registered vehicles."