Ealing police officers stabbed in 'violent crime spree'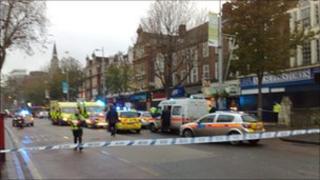 Three police officers were injured when a knifeman used "lethal and extreme violence" during a crime spree in west London, the Old Bailey has heard.
John Onyenaychi cut PC Paul Madden's throat in front of shoppers in Ealing last December, the court was told.
PC Madden, with two PCSOs, was called to arrest Mr Onyenaychi who was stopped by bus ticket inspectors, jurors heard.
Mr Onyenaychi, 30, of Wise Road in Stratford, east London, denies two counts of attempted murder.
He also denies two wounding charges and robbery.
Retractable knife
Mr Altman told the court the attack on 15 December was the culmination of a five-day crime spree by the accused.
He said Mr Onyenaychi lashed out at PC Madden, 23, and community support officers Piotr Dolata, 27, and Steven Constable in front of shocked Christmas shoppers.
"He savagely stabbed and cut the throat of PC Paul Madden who was about to arrest him", Mr Altman said.
"He then stabbed PCSO Piotr Dolata who went to Constable Madden's aid.
"He then slashed another PCSO, Steven Constable, who became involved in a violent struggle to stop Onyenaychi."
'Terrible damage'
Several officers helped restrain Mr Onyenaychi who refused to give up the retractable knife, jurors heard.
Mr Altman said it was thanks to the quick thinking of a retired surgeon, response teams and hospital doctors that PC Madden's life was saved.
He went on to describe Mr Onyenaychi as a highly dangerous individual who, he said, thought nothing of carrying a knife on him, "a tool of his trade, and uses it as a lethal weapon when he wishes to do so".
Jurors were told PCSO Constable's high-visibility jacket took the force of the attack on him, but the violence against the other two officers had been an attempt to kill them and causing "terrible damage".
Mr Altman said: "This defendant embarked on a crime spree of lethal and extreme violence."
The court heard that four days earlier, Mr Onyenaychi allegedly stabbed a man five times, causing serious wounds, in a minicab office in Brentford, west London, after a failed robbery.
Two days before that he stole a laptop from a man in Fulham, west London, after threatening him with a knife, the court heard.
Mr Altman said: "He threatened to kill the man unless he handed over the laptop. He boasted, 'I do this for a living'."
The judge told jurors Mr Onyenaychi was not in the dock because he had chosen to stay in his cell.
The case continues.