Heathrow and Gatwick agree to improve queue monitoring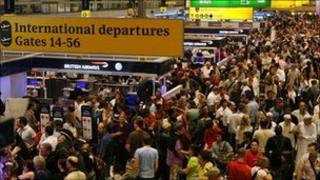 Two London airports have agreed to tighten up their queue monitoring procedures after they were called into question by aviation regulators.
Month-long checks at Heathrow and Gatwick showed longer queues for passengers at security than the airports had reported previously.
Heathrow has had to pay £500,000 to airlines as a result of the Civil Aviation Authority (CAA) findings.
Gatwick's North Terminal also showed changes to its queue profile.
The CAA said its Heathrow audit had reported "that the queue profile visibly differed between when the auditors were present and the profile in previous months".
It found a higher proportion of passengers at Terminal 5 queued for longer than five minutes in July than in previous months.
Busiest month
The fine Heathrow had to pay following the July independent audit was the first for security queues since last December, when the airport was affected by heavy snow.
A spokesperson for Heathrow's owner BAA said the queuing targets were not met because the audit took place in the airport's busiest month on record.
"Accurate data collection is very important and we will do everything we can to improve the robustness of our measurement processes," the spokesperson continued.
She said the airport would be introducing an automated queuing system shortly.
A spokesperson for Gatwick Airport said: "Since we took ownership of Gatwick back in December 2009, the security measurement target set by the CAA has been hit every single month.
"The auditors' own measurements support this - there were only very minor differences between our queue measurement figures and theirs - and as a result Gatwick has not had to pay any penalty to the airlines."
CAA regulatory policy director Iain Osborne welcomed the airports' agreement to improve their measurement processes, which he said would boost the public's confidence in these measures.