Jani-King cleaners 'sacked for being British', MP says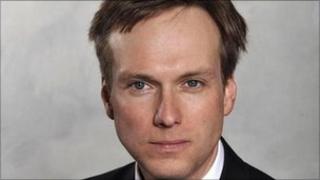 A cleaning company has been accused by an MP of sacking two workers because they are British.
Henry Smith claimed Jani-King, based in south-west London, fired the two workers because they were from the UK.
"Can we have consideration for a debate on discrimination against British workers in this country?", the Tory MP asked in the House of Commons.
However, Jani-King said: "Two employees have been dismissed following standard employment procedures."
The firm stressed their dismissal was not related to "ethnicity".
Legal inquiry
"Jani-King has over 1,200 staff in the UK and is an equal opportunities employer," it said.
Mr Smith, who represents Crawley in West Sussex, named the firm using parliamentary privilege, which protects MPs and peers against legal action for statements made in the House of Commons or the House of Lords.
He told the Commons: "Recently, I have been dealing with a case on behalf of two constituents who were dismissed from their job with a commercial cleaning firm called Jani-King, allegedly for being British."
He did not name the pair who were fired from the Kingston-upon-Thames-based firm, or give further details.
Leader of the House Sir George Young urged Mr Smith to contact "the appropriate authorities if anything illegal has taken place".
Sir George also said he would contact Work and Pensions Secretary Iain Duncan Smith to see "whether anything irregular has taken place".