London riots: Tottenham residents' inquiry launched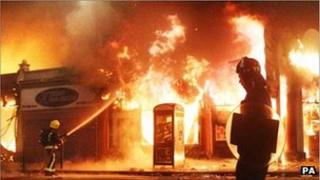 An alliance of north London residents has launched its own inquiry into the Tottenham riots.
The Citizens' Inquiry was commissioned by North London Citizens, an alliance of schools, churches, mosques, synagogues, universities and charities.
The inquiry hopes to understand what caused the violence and how it has affected their community.
Rioting erupted in Tottenham on 6 August following the shooting dead of a local man, Mark Duggan, by police.
Unrest then spread over subsequent nights to 22 out of London's 33 boroughs, from Ealing in the west and Croydon in the south, and to other English cities including Birmingham and Manchester.
'Underlying issues'
The Citizens' Inquiry will be led by 11 local commissioners including head teachers, religious leaders and youth group leaders.
The commissioners aim to report their findings to the members of North London Citizens by early 2012.
North London Citizens member Edward Badu, a student at St Ignatius College, said: "As someone born and raised in Tottenham, and as a young commissioner on the Citizens Inquiry, I want to show that not all young people are rioters or looters and that many young people are working to rebuild our neighbourhoods as community leaders."
Bruce Grove Youth Centre worker Hannah Adu said: "This is an opportunity for us to reflect on the underlying issues which caused two riots."
A separate independent communities and victims panel was set up in August to hear from communities affected by rioting.
It will deliver its final report to the leaders of the main political parties in March 2012.