TfL taxi bill criticised by Taxpayers' Alliance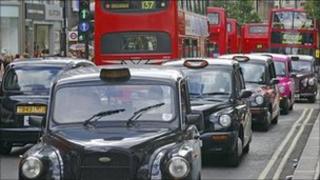 Staff at Transport for London (TfL) have spent more than £3m on taxis and minicabs in each of the past two years, new figures have shown.
The employees, who receive free public transport as a perk, claimed £3.4m in fares in 2009-10 and £3.25m in 2010-11, the Sunday Mirror said.
TfL said all bookings were "scrutinised and authorised" and journeys were vital for rail staff working early mornings.
The Taxpayers' Alliance said it looked "like rank hypocrisy" to spend so much.
The Freedom of Information figures were requested to see how much of TfL's annual budget of about £9bn was allocated to taxis and minicabs.
In May it was announced £7.6bn would be from cut the TfL's budget over the next seven years.
'Stringent' checks
TfL said taxis were used by staff in the early hours of the morning, such as those travelling into work at about 03:30 BST or those clocking off at about 02:00 BST.
Only a fifth of the 2,500 London Underground work starting at 03:30 BST needed a cab, it added.
"Without this provision, we would not be able to guarantee the first services of the day for the many customers who use them," a spokesman said.
The organisation also stressed that it used a single taxi firm which had been through "a stringent tendering process".
But Emma Boon, the campaign director at the Taxpayers' Alliance, said TfL "needs to look at ways of cutting this bill to save taxpayers' money".
"It will look like rank hypocrisy to taxpayers that TfL is supposed to be in charge of running public transport but spending so much on cab fares," she added.