Mayfair doorman murder: Six charged in Bogdan Paduret case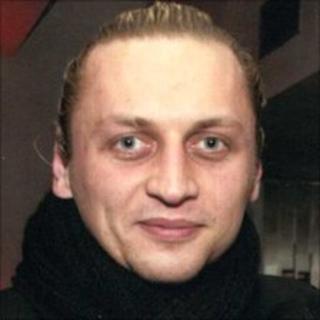 Six people have now been charged with murdering the head doorman of a West End nightclub outside his home in north London last November.
Bogdan Paduret, who was 29 and worked at the Mayfair Club, was shot in the head as he sat in his car in Finchley.
Sibigam Ekprkpo, 57, of Arden Crescent, Docklands, has been accused of killing him, along with Danny Dixon, 29, of Sheffield Square, Bow.
They are due in court on 20 January, along with four men charged last year.
All will appear at the Old Bailey.
The other men who have been charged include Errol Jeffrey, 28, of Gilbertson House, Mellish Street, Limehouse; and Troy Shaw, 19, of Wharfside Point North, Poplar High Street, Poplar.
Christopher N'Jie, 19, of Elderfield House, Limehouse; and John Otugade, 19, of Stanford Road, Frien Barnet; are also accused of killing Mr Paduret, who was known as Tony and was a Romanian national.
He was shot four times through the passenger window of his vehicle.