Halloween trick or treat: Police warn London parents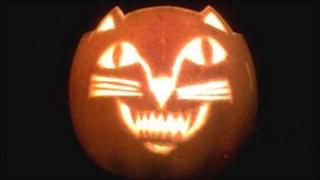 Parents in London have been urged to accompany their children if they go "trick or treating" this Halloween.
Scotland Yard said it hoped youngsters would avoid "causing unnecessary worry" by making sure they did not knock on the doors of the elderly or vulnerable.
It said anti-social behaviour would not be tolerated, although most children acted "safely and responsibly".
People going out were also asked to lock doors and windows, and to leave lights on, so their homes were secure.
The Metropolitan Police has issued advice ahead of Halloween on 31 October and Bonfire Night, five days later.
Metal-detector gates and "wands" will be used to discourage people from carrying weapons, as part of an "intensive" operation to prevent disorder on buses, Tubes and trains.
And "mystery shopper" visits will be paid to retailers selling fireworks and alcohol to check these are not being given to children.
"During this busy period, ensure you stay safe by staying with others, and try to attend well-organised events," said Cdr Christine Jones.
She also recommended leaving valuables and mobile phones at home, or keeping them well out of sight when walking around.