Police dog award for London riots bravery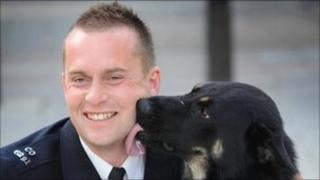 A police dog seriously injured during the London riots has been presented with a special animal bravery award.
Obi, a three-year-old German Shepherd, was on front-line duties alongside PC Phil Wells in Tottenham in August.
They came under heavy bombardment from bottles, bricks, street furniture and petrol bombs thrown by rioters.
Obi was hit by a brick above his left eye. He was honoured by the International Fund for Animal Welfare (Ifaw) at the House of Lords.
After passing initial checks, Obi continued to work for several hours after his injury.
But officers noticed blood trickling from his left nostril. He was taken to a vet for assessment and a CT scan revealed a fracture to his skull above the left eye socket.
He was only cleared to return to full duties this week.
The dog lives with PC Wells and his family.
'Nice recognition'
PC Wells, 30, said: "It was quite humbling to hear that Obi was to receive this award, in the same way that the public responded in the aftermath of the riots and came out to thank us.
"It's really nice to have the work recognised and while Obi received a lot of attention, we are just one of many dog teams who go out on the streets every day.
"Obi has been keen to get back to work - he didn't like being left at home when I set off on my own as he loves it."
Robbie Marsland, UK director of Ifaw, said: "We are delighted to be able to highlight the amazing service given by police dogs such as Obi.
"We were relieved to hear he has made a good recovery and he is a truly rewarding winner of our special Animal Bravery Award."