London riots: School worker jailed for looting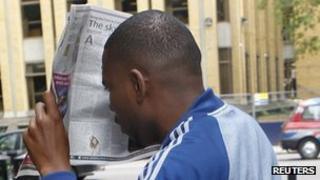 A primary school worker has been jailed for looting an electrical store during August's rioting.
Alexis Bailey, 31, of Battersea, south London, was arrested in a Richer Sounds shop in Croydon.
Inner London Crown Court jailed him for a year after he pleaded guilty to burglary with intent to steal.
Bailey has already been sacked from his job as a learning mentor at Stockwell Primary School for taking part in the "despicable acts".
A Lambeth Council spokesman said at the time of the sacking: "His behaviour was found to be incompatible with the standards we expect from people who hold a position of responsibility in our schools to work with children.
"Those who took part in these despicable acts of hooliganism and violence should face the full force of the law."