London councils share chief executive to save money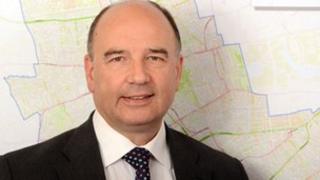 Two London councils have agreed to share a chief executive in a move that is expected to save £200,000 a year.
Hammersmith and Fulham Council agreed to neighbouring Kensington and Chelsea council's chief executive Derek Myers taking the helm at both authorities.
They already share senior managers in legal and highways services.
The two councils are also in the process of merging some services with Westminster Council - saving £33.4m a year but with the loss of 500 jobs.
Cutting costs
As part of the move, ratified on Wednesday night, the two councils will also share the management and delivery of environmental services.
Councillor Stephen Greenhalgh, leader of Hammersmith & Fulham Council, said: "At a time when the state of the nation's finances mean that we have to save millions of pounds, our residents can be assured that we are doing everything possible to cut back office and management costs, not the services they rely on the most."
The leader of Kensington and Chelsea council, councillor Sir Merrick Cockell, said: "The savings go right to the very top, and one of the reasons that is possible is because in Derek Myers we have someone capable of taking on the role of dual chief executive, notwithstanding its scale and complexity."
Mr Myers has been chief executive of Kensington and Chelsea council since 2000.
He will replace Geoff Alltimes who is retiring as chief executive at Hammersmith and Fulham Council after 30 years' service.