Missing chef: Jamie Oliver appeals to Kevin Boyle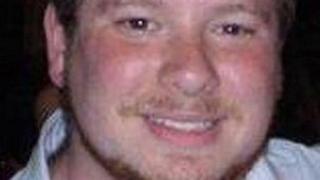 TV chef Jamie Oliver has appealed for help in tracing one of the original apprentices at his Fifteen restaurant, who disappeared nine days ago.
Kevin Boyle, 26, was last seen in Purley, south London, on 12 October.
He graduated from the Fifteen project, set up to help disadvantaged young people in London, in 2002 and has since worked at several high-end restaurants.
Oliver and his team were "concerned" about Mr Boyle's whereabouts, they said in a statement.
"His family and his many friends are worried about him and simply want to hear that he's fine and coming home," the statement said.
Mr Boyle has a history of depression and "has a large network of friends all over the country who dearly love him", according to a website set up to draw attention to his disappearance.
He is also a member of Purley Baptist Church and a fan of Crystal Palace Football Club.
Mr Boyle is described as being 5ft 6ins tall and stockily built, with receding fair hair.
Anyone with information has been asked to contact the Metropolitan Police.