London riots: Teenager admits £20k Islington bike raid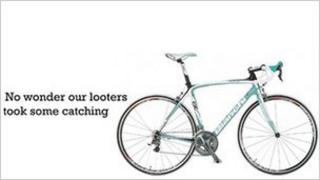 A teenager has admitted going on a looting spree across north London during the riots in August.
Reece Jackson, of Holly Park Estate, north London, stole bikes worth £20,000 from the Micycle shop in Islington, Wood Green Crown Court heard.
He also broke into two newsagents, stealing goods worth more than £3,000.
The 18-year-old admitted one count of violent disorder, one attempted burglary and three burglaries over a two-day period.
He is due back at the court on 28 November for sentencing.
Jackson was part of a mob who kicked down the door to Micycle, an independent bike shop, before helping themselves to numerous top-end bicycles.
On the same day he broke into Food City and stole £595, 20 packets of cigarettes and caused £3,000 damage.
The raids were among the most severe incidents of looting seen in Islington, which suffered less disorder than some other parts of the capital.
Police thanked
Jackson also broke into Shriji News in north London, stealing items worth £2,450 and causing £1,150 of damage.
A statement on the Micycle website said of the mob attack: "Well done to the local police who have been working hard to round them up.
"Also, we have had three bikes returned back to us - or at least parts of them."
In the aftermath of the raid, free advertising space in the Metro newspaper was donated to Micycle.
The subsequent advert featured a top-end bicycle with the slogan: "No wonder our looters took some catching.
"We have always said cycling is a great way to escape."