St George's Garrison Church in Woolwich to be restored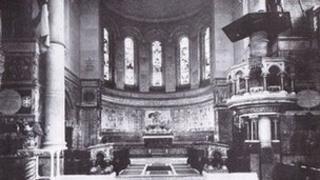 A south-east London church which lost its roof in a wartime bombing raid has received nearly £400,000 for repairs.
St George's Garrison Church in Woolwich was built in the 1860s to serve the Royal Artillery Barracks. It is still used for open-air services.
Among the surviving features are mosaics, as well as marble tablets listing the names of fallen gunners who received the Victoria Cross.
The Heritage Lottery Fund has awarded a grant to pay for two years of repairs.
The building, which also contains monuments to battles and servicemen killed in action, was one of the buildings included on English Heritage's "at-risk" register of sites in jeopardy.
It was left as a roofless shell when it was hit by a German bomb in World War II in 1944.
Culture Minister Ed Vaizey said it had been "a poignant and silent victim of World War II" for more than 60 years.
He said he was "delighted" a scheme had been devised "to conserve the magnificent mosaics and create a garden which can be used by the local community".