Energy bills and debt tackled by fuel poverty scheme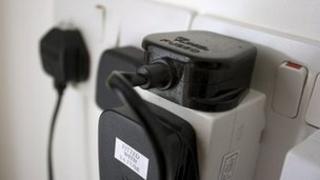 A computer programme which aims to cut power wastage in low-income households has been launched after a trial in five east London boroughs.
The Shimmer system assesses a home's electricity consumption and recommends ways to make it more efficient, the Energy Saving Trust said.
It also connects to an online accounting tool to encourage budgeting.
The project could "help a lot of people in future", said Gillian Guy, the chief executive of Citizens Advice.
Last week an independent report found thousands of people die each year from illnesses linked to fuel poverty.
Shimmer works by connecting electrical appliances to "smart" plugs which measure the amount of power used and provide an itemised bill showing how much each item costs to run.
The programme then suggests how to cut costs, for instance by recommending more efficient boilers or fridges, and lists appropriate benefits and allowances available to the user.
'Smart homes'
A total of 18 homes, most of which were in debt and had little disposable income, tried the system in Hackney, Havering, Newham, Redbridge and Waltham Forest.
The savings for each ran into hundreds of pounds a year, the trust said.
"Ultimately, we need to have smart homes, not just smart meters," said chief executive Philip Sellwood.
Citizens Advice said increasing numbers of people were seeking information on cutting fuel bills and saving energy.
"Around £18bn of means-tested benefits and tax credits is unclaimed this year and this project shows that some of the biggest 'savings' for households came as a result of advice on financial issues and benefit entitlements people either did not know about, or did not think were for them," said Ms Guy.
"Combining that advice with new technology which puts customers in control of their energy usage could be a powerful combination to help a lot of people in future."