London Film Festival director Sandra Hebron bows out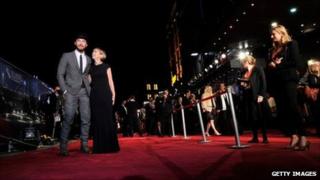 After eight years at the helm of the BFI London Film Festival its artistic director Sandra Hebron is stepping down.
When the curtain falls on the closing film, a screen adaptation of Terence Rattigan's play The Deep Blue Sea, Ms Hebron will feel a sense of accomplishment rather than sadness.
She said she would be happy in the knowledge that she has left the two-week long event in rude health.
It had been a "fantastically enjoyable privilege" to be involved in the festival for the past 14 years, Ms Hebron said, but it was the right time to leave.
'More inclusive'
The former academic worked at the Cornerhouse in Manchester for several years, helping to set up the successful Spanish language film festival Viva, before heading down to London to join the BFI in 1997.
In 2003 she took over as artistic director of the London Film Festival and set about making the event a "little more inclusive".
One of her early successes was securing the UK premiere of Sofia Coppola's second film Lost in Translation, featuring a then relatively unknown Scarlett Johansson.
The event, arguably, has a much higher profile than ever before and also screens more features.
Just 20 films were shown in 1957 when it was launched. Now filmgoers can watch about 300 movies as well attending question and answer sessions with directors and filmmakers.
The decision to scrap the UK Film Council, which helped fund the festival for three years, played its part but the main reason she said she was leaving was because it was time to do something else.
Ms Hebron added: "I've had lots of ideas and brought things to the festival but really for both me and the festival it was probably time to have a change so that's the rationale behind me leaving.
"It was much more a personal decision than a structural decision."
The festival has had its critics, with some suggesting it has become too commercial in recent years, but Ms Hebron said she believed the event should be open to all.
"I hope that the festival is possibly a little more inclusive then it used to be in terms of audience.
"I've always resisted the idea that the festival should be just for people who have got a PhD in cinema or that somehow you feel like you have to have some special knowledge to come to the cinema, [to] come to the festival," she said.
She also thinks it is very important directors and actors get to meet their audience and see their reaction to their films.
"We are a public festival. It's very important that we think about our audiences, it's very important that we have that opportunity to have filmmakers come in and introduce their films and do Q&As with audiences," Ms Hebron said.
"I think those are the kind of things that make the festival feel special and very lively.
"We talk a lot about how great it is when audiences get access to filmmakers but we also have to remember that it's really good when filmmakers get access to and get to talk to their audiences."
She also said she had been fortunate cinema in Britain and London had blossomed during her time at the film festival.
"I'm continually impressed by what happens in London the rest of the year round.
"I just get the sense that there is a massive interest in and appetite to see a really broad range of films.
"London generally feels like a very culturally vibrant and cosmopolitan city but I think you really see that in relation to cinema," Ms Hebron said.
She will not comment publicly on her future plans until she has actually left the BFI in November but she said would be spending a lot of time during next year's festival seeking out the lower profile films she thinks make the festival special.