New campaign targets beggar gangs in Edgware Road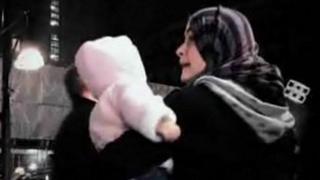 A campaign has been launched to rid one of London's most famous streets of beggars.
Edgware Road, in Westminster, has become the centre of an organised begging operation.
Westminster Council has put up posters warning against giving money to beggars in shisha cafes and bus stops.
The council described the professional beggars as "persistent and manipulative".
BBC Panorama revealed this month how Roma gypsy gangs are using children to target the street.
'Exploit sympathy'
Beggars, wearing Muslim dress because the area is home to large Arabic community, apparently attempt to play on the sympathies of the local population.
Councillor Brian Connell said: "These people are persistent and manipulative.
"As well as deceiving the public, they may also be trafficking children, or using them as a way to make money.
"In addition, the large number of beggars in the area is damaging to local businesses, and upsetting for those wishing to enjoy the Middle Eastern food and culture along Edgware Road."
The council urged well-wishers to donate to charities such as St Mungo's and The Passage rather than handing money to beggars.