Residents may lose respite during Heathrow runway trial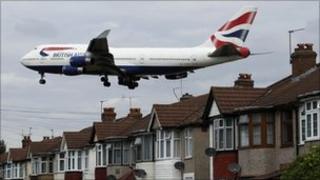 A four-month trial that will make it easier to use Heathrow Airport's two runways simultaneously has begun.
Previously the runways were restricted to take-off or landing and switch each afternoon, except in an emergency, to give residents respite from the noise.
The trial, which aims to help airport operator BAA to minimise disruption, will see the threshold for triggering the emergency system lowered.
BAA has warned that communities may lose their respite periods.
The communities affected would be those at the end of the runways and below the final landing approaches.
Reduced emissions
But the operator has also said there may be fewer late-running flights after 22:30 GMT as a result of the changes.
It said emissions might be reduced as well as the aircraft will spend less time in holding queues.
BAA insisted the number of flights at Heathrow would remain capped at 480,000 aircraft movements a year.
Under the changes, dual use of the runways can be deployed when a plane faces a 10-minute wait to land or take off and if 30% of all flights are delayed by more than 15 minutes.
The average time delay for flights at the west London airport is currently 12 minutes.
The first trial finishes on 29 February while the second will run from 1 July 2012 until 30 September - coinciding with the London Olympics.
The trial was recommended by the Department for Transport and will be overseen by the Civil Aviation Authority.