Putney flat 'suicide pact' women 'criticised police'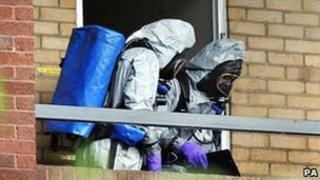 Two women found dead in an online suicide pact left notes criticising police, an inquest has heard.
Jaime Perlman, 37, and Riley Lison-Taylor, 33, died in a fume-filled flat in Putney, south-west London, in 2010.
Letters criticising officers who had handled their harassment cases were found at the scene.
After an inquiry by the police watchdog two officers were given "management action". Another officer has since been dismissed for an unrelated matter.
An inquest into the deaths heard the women were found at Miss Lison-Taylor's home five days after meeting on the internet in September last year.
The two "vulnerable" women were discovered lying side-by-side in a cupboard, both wearing headphones attached to music players and goggles.
'Troubled' lives
The property had been sealed with tape to contain the noxious fumes, the inquest was told.
Det Insp Glen Lloyd of the Metropolitan Police said the women - both of whom worked in the beauty industry and then the sex trade - led "troubled" lives before they met online to plan their deaths.
The inquest at Westminster Coroner's Court heard both women had been in contact with the police before they died.
Coroner Dr Shirley Radcliffe said letters found at the scene indicated dissatisfaction and complaints about the police investigation into their stalking allegations.
Miss Lison-Taylor, who the inquest heard fell in love with her investigating officer, later claimed he had "manipulated her and played with her vulnerability".
'Inappropriate' text messages
The inquest heard the Independent Police Complaints Commission (IPCC) upheld two of her six complaints.
It branded text contact from the investigating officer "inappropriate" and stated he should have passed on her case to a colleague when requested by Miss Lison-Taylor.
However it termed the separate stalking investigations thorough and adequate. The officer was subsequently given management action - a reprimand short of a formal warning.
In relation to Miss Perlman, from Kingston, south London, the IPCC found one officer had breached conduct regulations by failing to complete a form during a meeting with her in April 2010. The officer has received management action.
During the IPCC investigation a number of unrelated allegations came to light against a detective constable who took on the original case in 2009.
He has been interviewed under criminal caution and a file is currently with the Crown Prosecution Service relating to 13 cases of suspicion of misconduct in a public office.
He was dismissed from the Met on 21 April for misconduct, in matters unrelated to Miss Perlman's case, which are subject to an ongoing IPCC inquiry.
Recording two verdicts of suicide, Dr Radcliffe said: "It would seem to me that there were an awful lot of difficulties that these women faced in their lives.
"They were very vulnerable people and they had been through a very difficult psychiatric past.
"They became very involved in suicidal ideas and they had a number of reasons for feeling depressed and anxious. Being stalked undoubtedly is one of the most difficult things they would have had to face."