Piccadilly reopens after facelift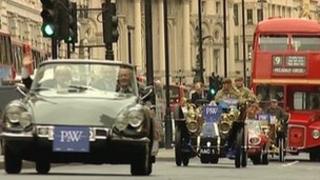 A convoy of vintage cars and a Routemaster bus marked the completion of a £14m revamp of London's Piccadilly area
The scheme has allowed the return of two-way traffic for the first time since the 1960s.
The work aims to ease congestion and to make it more accessible for pedestrians and other road users.
It also seeks to reverse the trend of 'rat running' through narrow streets nearby.
The return to two-way traffic on Piccadilly, Pall Mall and St James's Street, combined with improved traffic signalling, is hoped to reduce queues of traffic in the area.
Westminster Council, The Crown Estate and Transport for London led the project.
They claim that improving journey times will mean quicker deliveries and savings for businesses in the area.
The Mayor of London, Boris Johnson, who took part in the convoy, said: "By providing more paving, ripping out superfluous signs and restoring two-way traffic for the first time in almost 50 years we are rejuvenating a jewel in London's crown."