Clapham cannabis factory man jailed for killing burglar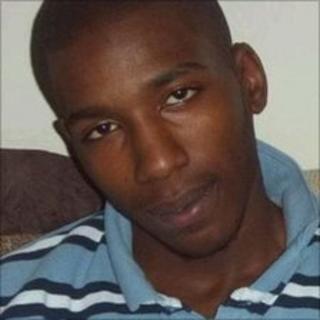 A man with a cannabis factory who shot dead a burglar has been jailed for 10 years for manslaughter.
Raymond Andes told the Old Bailey he had fired a shot to scare off Isaiah Bovell, 21, who was trying to break in to his flat in Clapham, south London.
Andes had denied manslaughter but a jury found him guilty on Wednesday.
The judge told the 39-year-old he was "no ordinary householder" and had carried out a dangerous and unlawful act to protect his drugs farm.
Judge Peter Thornton jailed Andes for 10 years for manslaughter, five years for possession of a firearm and two years for cultivating cannabis, all to run concurrently.
As he passed sentence, Judge Thornton said: "All of this was to protect you from being attacked for your cannabis."
Mr Bovell was hit in the head when Andes fired a bullet from the ground floor window.
Judge Thornton told the defendant he could have called out a warning to the intruder rather than firing the gun.
"I accept that you shot to miss," he said.
"Nevertheless, from an objective point of view that was a particularly dangerous act in the circumstances and it was unnecessary."
Andes' defence, Julian Hayes, said it was a "very sad, unusual case", and that his client had fired a shot simply to warn off the man who died.
He said: "He did not see the deceased's head and he did not deliberately fire at the deceased's head."
Andes had previously told the court he was "terrified" at the time and had heard of people being tortured to find drugs or money.