Euston train services stopped by power supply problems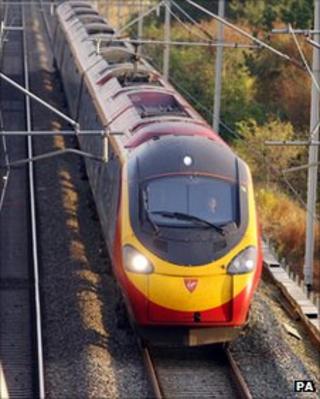 Many train services to and from London Euston have been suspended due to power supply problems.
Overhead power lines in Wembley have been damaged, which has stopped four lines in and out of the station.
The problems began at 11:30 GMT. Network Rail hopes to have a limited service operating during the evening.
Shortly after 17:00, Virgin Trains said it had resumed a limited service, although delays were expected throughout the evening.
It said a normal service would resume on Sunday.
London Midland and Southern trains are also affected, and tickets are being accepted by other operators at alternative stations.
Engineers are making temporary repairs to the power problems in Wembley, north-west London.
But a spokeswoman for Network Rail warned disruption would continue until full repairs were complete.
One of the passengers affected, David Merritt, said he was "rapidly losing the will to live - and my faith in the railways" having set off from Kingston, Surrey, for Preston, Lancashire.
"A two-hour, 24-minute journey from Euston has now turned into journey taking at least 10 hours from when we set off," he said.
When Mr Merritt spoke he was at Leeds, having diverted to another northbound service from King's Cross before heading west.
George Berry, from Ipswich, said he had left Coventry at 10:10, expecting to get home at 13:00, but had returned four hours later.
He said the train stopped about 55 minutes into the journey, near South Kenton station, because of the power failures.
'Middle of nowhere'
He added: "Eventually we were led through the front of the train and told to walk along the tracks and away from the train.
"We ended up at another little station in the middle of nowhere called Preston Road. We then had to figure out how to get the Tube to London Liverpool Street so we could get home."
Services from London Euston go to the Midlands, north-west England and Scotland, including major cities such as Birmingham, Manchester and Glasgow.
London Overground trains are running only between London Euston and Willesden Junction.