Home Secretary praises bravery of stabbed PCs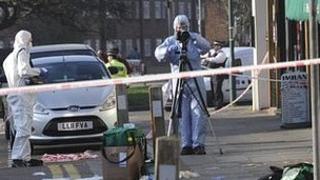 The Home Secretary Theresa May has praised the bravery of four police officers who were stabbed as they tried to disarm a man in north-west London.
Three of the officers remain in hospital following the incident at Kingsbury which started shortly after 08:30 GMT on Saturday.
The man ran into Kingsbury Halal Butchers and grabbed a 12in knife before stabbing the officers.
Mrs May said their bravery was a "vital reminder of the debt we owe police".
Officers "put themselves in harm's way every day to protect the public", she said.
'Immense gratitude'
"Nick Herbert (Policing Minister) and I have spoken to the Commissioner to pass on our deep sympathies for the severe injuries suffered and our immense gratitude to the officers for their actions.
"We wish them a full and fast recovery," the Home Secretary said.
Police said the incident started when officers were called to reports of a man causing a disturbance.
Shopkeeper Girish Modha, who owns a nearby sweet shop, said the man started shouting at police.
"He grabbed a piece of fluorescent tubing and brandished it at police.
"He then ran down Kingsbury Road, going into a cash-and-carry shop.
"At one point I think he threw a brick and smashed a police car window."
The man then ran into the butcher's shop and demanded a "chopper", according to owner Mohammad Qasim.
He said the man then grabbed a 12in knife off the counter.
"After a few minutes police came in and tried to catch him and he stabbed one."
Mr Qasim said there was "plenty of blood inside, everything was a mess".
The man was eventually overpowered but not before the four officers had suffered a range of stab wounds and other injuries as they tried to disarm him.
Commander Christine Jones, of the Metropolitan Police's territorial policing unit, spoke of the officers having "put their lives on the line by confronting this man in what was an extremely violent and spontaneous situation".
They had "demonstrated outstanding bravery", she said.
London Mayor Boris Johnson said his thoughts were with the injured officers and their families and colleagues, adding: "This was an appalling attack on brave individuals who work tirelessly to protect our communities and keep our streets safe."