Marble Arch replica from Westminster litter on show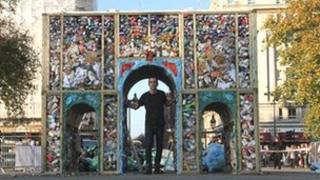 Rubbish collected from the streets of London's West End has been used to create a model of Marble Arch.
The rubbish arch built by artist Miguel Romo is created from 120 bags of litter collected from Oxford Street, Regent's Street and Bond Street in one day.
The artwork, in front of the original Marble Arch, launched Westminster Council's campaign urging people to dispose of litter responsibly.
The 3m (9.84ft) high replica arch will be on display for 10 days.
About £14m is spent every year on cleaning the streets of Westminster, the council said.
Councillor Ed Argar, cabinet member for city management, said: "It [the replica] is about what the council and its partners have to do to keep the streets clean and pleasant, but also more importantly what residents and visitors can do to help."
Mr Romo said: "I hope that by creating this sculpture right in the heart of London people can realise that a small effort from everyone could make a really big change."
Richard Dickenson, chief executive officer of New West End Company, which represents businesses in the area, said about 200 million people visit the shopping district every year.
'Get basics right'
He said: "Visitors also have a role to play and sometimes need to do more. This campaign highlights an important message and with the eyes on the world on us in 2012 we need to get the basics right."
About 18,000 tons of litter bin and street waste are collected by the council every year, including 300,000 bits of chewing gum which are cleared just from Oxford Street.
The 181-year-old Marble Arch designed by John Nash, is built of white Carrara marble and stands at the junctions of Oxford Street, Park Lane and Edgware Road.
It originally stood as the main entrance to Buckingham Palace but was moved to its current location in 1851 and became an entrance to Hyde Park where the Great Exhibition was taking place at the time.