Search for man's body in River Thames at Docklands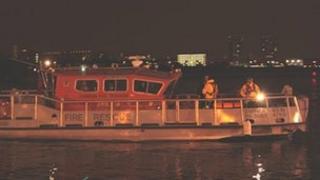 Emergency services have been searching for a body in the River Thames in the Docklands area of east London.
Police were called at 20:50 GMT on Tuesday to reports of a man in the river by the Sir Steve Redgrave Bridge.
A Metropolitan Police (Met) spokesman said: "London Ambulance and London Fire Brigade attended the scene and we searched for several hours.
"The search was halted until the morning when we will have better light and weather conditions".
On Tuesday night, eyewitness Sarah Seal, a student from London said: "Tonight there was a body search outside my university in the River Thames."
"All that's been heard at the moment is that somebody has either been pushed or jumped into the river outside the University of East London."
"They were searching for about an hour from 21:00 GMT.
"We asked the searchers after they finished, 'What's going on', and they said they are going to wait a couple of days until the body floats to the top."