Dow Chemicals' London Olympics role: Livingstone calls for rethink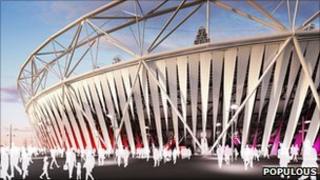 Former London mayor Ken Livingstone has urged a rethink on Dow Chemicals' role in the 2012 Games, saying it may create a "potential crisis of legitimacy".
Mr Livingstone, who was the mayor when London bid for the Olympics, asked organisers to turn down £7m from Dow to fund a fabric wrap around the stadium.
Dow, which has links to the firm behind the 1984 Bhopal gas disaster, said the issue of compensation was settled.
London 2012 said: "Dow have been a global partner of the IOC since 2010."
The International Olympic Committee (IOC) is the organisation in charge of running each Olympic Games.
A London 2012 spokeswoman said: "They came through a rigorous procurement process, one that was geared to creating the most sustainable solution to the wrap around the stadium."
London Mayor Boris Johnson is yet to respond to Mr Livingstone's comments.
In 1999, Dow merged with the Union Carbide Corporation whose subsidiary, Union Carbide India, ran the Bhopal pesticide plant - the site of one of the world's worst industrial disasters which led to the death of thousands of people.
Dow has always maintained it did not own or operate the Bhopal plant and that legal claims regarding the gas leak have been resolved.
The firm has said in the past that its $470m (£288m) settlement for those affected by the tragedy was fair and final.
Concerns emerged recently about Indian participation in the Games after 21 Indian Olympic athletes urged London 2012 to end the deal with Dow.
But earlier on Monday the acting president of the Indian Olympic Association told the Press Trust of India: "There is no question of India boycotting the London Olympics."
In a statement Mr Livingstone, who is Labour's mayoral candidate, said: "Dealing with industrial contamination was the first necessary task to transform the Olympic Park from a derelict polluted wasteland into the largest urban park in Europe.
"It would undermine London 2012 to take money from a sponsor that refused to clean up its own subsidiary's mess."
London 2012 chairman Lord Coe has also defended Dow, including before the Culture, Media and Sport Committee earlier this month, saying: "I am satisfied that the ownership, operation and the involvement either at the time of the disaster or at the final settlement was not the responsibility of Dow."