Freedom of the City of London records published online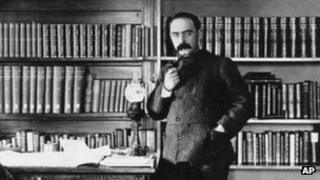 Records of people across the UK who had the "freedom" to trade in the City of London after 1681 have been published online for the first time.
Author Rudyard Kipling and former prime ministers Benjamin Disraeli and Robert Peel are among the names listed.
The records from 1681 to 1925 were published by family history website Ancestry.co.uk.
Names and details of privileges enjoyed by more than half a million people feature on the website.
It details how some awarded the Freedom of the City of London were able to drive sheep over London Bridge, be drunk and disorderly without fear of arrest, or, if sentenced to death, be hanged with a silken rope.
Ancient trades ranging from scriveners and vintners to turners and tallow-chandlers are included in the information published.
Dr Deborah Jenkins, heritage services director in the City of London's Department of Culture, Heritage and Libraries, said the records were "a rich resource for those who are researching ancestors who worked or traded within the Square Mile".