Spurs 'stonewalled' West Ham's Karren Brady over phone records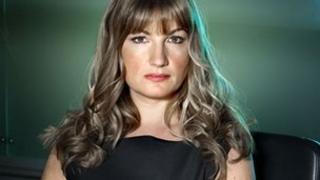 Tottenham and accountants "stonewalled" West Ham's vice-chairman when she tried to find out how her phone records were obtained, a High Court judge has said.
In his judgment Mr Justice Coulson said letters sent to Karren Brady were "long on words but short on information".
In November accountancy firm PKF, engaged by Tottenham, agreed to provide information about her phone records.
PKF had copies of her records while bidding for use of the Olympic Stadium after the 2012 Games was taking place.
'Little wearisome'
Both London clubs were rival bidders for the use of the venue.
At the High Court in November, Mr Justice Coulson granted Ms Brady an information disclosure order.
The written judgment, which has now been published, gives the judge's view about the behaviour of Tottenham and PKF.
The accountancy firm was engaged by Tottenham to conduct an inquiry in connection with the Olympic Stadium, but there were "no documents" clarifying its role.
Mr Justice Coulson said: "The precise nature of the instructions given to PKF remains something of a mystery, because neither PKF nor Tottenham Hotspur have provided any detailed evidence about the precise nature of PKF's role.
"Given the issues raised in this case, I consider that this omission reflects no credit on either PKF or Tottenham Hotspur."
West Ham's lawyers began a "long chain of correspondence", first with Tottenham, then with PKF, to find out what happened.
Mr Justice Coulson said: "It appears that Ms Brady was given the traditional run-around by both principal and agents, in a series of letters that were long on words but short on information.
"Tottenham Hotspur had told [Ms Brady and West Ham] to go to PKF and PKF had said that the matters were protected by Tottenham Hotspur's right to client confidentiality."
Describing this approach as "stonewalling", the judge added: "PKF's repeated concerns about client confidentiality and the need for wholesale redactions... grew a little wearisome."
The judge said PKF's attempt for the November's hearing to be held in private was "rooted in PKF's desire to minimise the embarrassment".
West Ham began inquiries after a newspaper reported in July that the club paid a member of staff at the Olympic Park Legacy Company (OPLC) for consultancy services and mentioned "bank and telephone records... obtained by corporate investigators hired by Tottenham Hotspur".
Mr Justice Coulson said the information disclosure order was justified as Ms Brady's telephone records had been "wrongfully obtained by subterfuge".
Both clubs wanted to move to the £486m stadium in Stratford, east London, after the Games, and Tottenham began legal proceedings after the OPLC favoured West Ham's bid.