Court order text sent to Occupy London in Hackney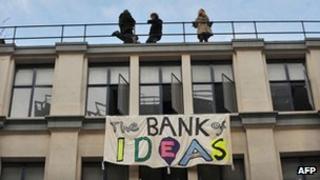 Lawyers texted a High Court injunction to protesters occupying an empty office complex in Hackney owned by UBS, a judge heard today.
The court order was issued in a four-line mobile phone message after the protesters left a contact number with the Swiss bank announcing their occupation on 18 November.
At a High Court hearing in London, demonstrators tried to fight eviction.
Mr Justice Roth has adjourned his ruling until later this week.
'No abbreviations'
A barrister said the text message was the idea of judge Mrs Justice Proudman and it was "written in standard English with no abbreviations".
The protesters - part of Occupy London Stock Exchange (OLSE) - asked Mr Justice Roth to set aside the injunction and a "possession order" also granted by Mrs Justice Proudman.
The office block was the third space the group moved in to after St Paul's Churchyard on 15 October and Finsbury Square on 22 October, both in the City of London.
Activists, campaigning against economic inequality, named the Hackney site the Bank of Ideas and said that they were trying to highlight the number of empty properties across London.