Tamara Ecclestone 'blackmail' complaint investigated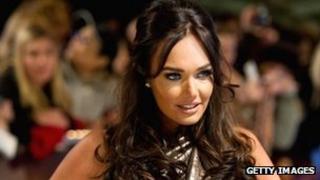 An investigation has begun into a suspected attempt to blackmail Tamara Ecclestone, the daughter of Formula 1 boss Bernie Ecclestone.
The Metropolitan Police said it had "received a complaint regarding an inappropriate communication relating to the release of personal information".
Miss Ecclestone, 27, is Mr Ecclestone's oldest daughter and lives in the London borough of Kensington and Chelsea.
Police said no arrests had been made following the complaint on 5 December.
A Met spokesman said: "The allegation was assessed and is now being investigated at this early stage as blackmail.
"CID on Kensington and Chelsea are investigating."
Miss Ecclestone recently appeared in Billion Dollar Girl, a reality show on Channel 5.
Her spokeswoman said: "Tamara is aware of the matter and police are handling it on her behalf."