Cheerleading teacher will be London 2012 Olympics torchbearer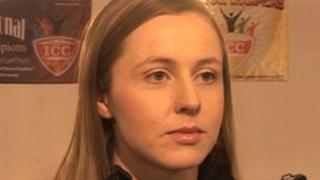 A cheerleading teacher from east London is among those who expect to bear the Olympic torch on its progression around the UK next year.
The Olympic flame will arrive in the UK from Greece next May before travelling 8,000 miles around the country.
Mel Brown, 22, from Newham, is among those with a conditional offer to bear the flame on its journey.
The teacher, who volunteers to train youngsters in cheerleading, said it would be an "amazing experience".
Ms Brown, who teaches at a primary school in Essex, says she has introduced thousands of children and teenagers to cheerleading.
She said of her selection: "It's an amazing opportunity.
"To be born and brought up in Newham and be representing the youth of Newham will be an amazing experience."
She continued: "I've been doing cheerleading since I was six and it's taught me so much about teamwork and dedication.
"When I work with the children all I have is hope they can have some belief in themselves and go as far as they want to go in life regardless of their backgrounds.
"Courage, resistance, determination - all of those skills we aim to instil in children through cheerleading."
Sherelle, a 13-year-old cheerleader from Plaistow, east London, said: "I had a good relationship with Mel - she taught me a lot and that's what got me this far in cheerleading.
"She's really nice and she'll push you because she really wants you to do it.
'Always inspiring'
"She'll do anything for you - if you're feeling down there'll be a smile on her face to keep you happy."
Another of her pupils, Kimberley, 15, said: "Mel got me to where I am today.
"She's made me feel safe where I am because she's always been there for me if something's wrong.
"She's always inspiring and she's what I want to be - I want to be one of the coaches and a primary teacher too."