Website to monitor GPs in London launched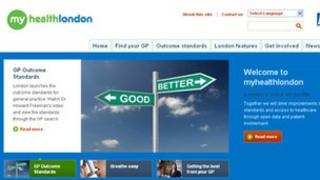 Residents in London will now be able to see how well their local GP is doing as a website which monitors doctors' performances is launched.
The My Health London website will show GP standards such as screening rates and patient approval scores.
NHS London said the project was aimed at improving GPs' services.
The British Medical Association (BMA) said the information was meaningless without an understanding of the demographics the GP practice works in.
NHS London said it hoped the website would "create an information hub that would constantly be developed like an online newspaper focusing on health issues for Londoners".
It said it would help residents find out how their practice performs against standards such as childhood immunisations and cervical screening as well as how they compare to other GP practices.
'Informed decisions'
Dr Phil Koczan, a GP based in Chingford, north-east London, said as healthcare needs vary widely across London, it was hoped that GPs would learn from colleagues in other practices.
Each practice will have its own webpage which can be customised to keep people informed of clinics and services and it will also enable patients to provide feedback.
If the London trial is successful, it will then be rolled out across the rest of England and Wales.
Dr Richard Vautrey, deputy chair of the BMA's GP committee, said information about GP practices such as referrals and prescribing information was already publicly available, however it is not collated together or easily accessible.
He said the problem with the information was unless people understood an area the practice worked in, then the prevalence of certain diseases could differ markedly according to the lifestyle and occupation of the local population.
"We would therefore be very concerned if this information was used to create league tables that would mislead patients rather than better inform them," he said.
Mayor of London Boris Johnson is backing the project.
Ahead of its official launch, he said: "Few decisions are as critical as those affecting our health and that of our family and friends.
"To make informed decisions, it is of paramount importance that we are armed with sensible information."