Police dog attacker Lukasz Sklepkowski absconds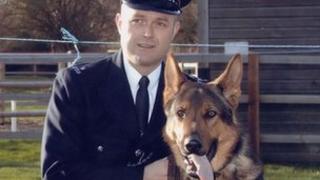 A warrant has been issued for the arrest of a man found guilty of causing unnecessary suffering to a police dog.
Lukasz Sklepkowski, 29, of no fixed abode, failed to attend Hendon Magistrates' Court to answer the charge on Monday and was found guilty in his absence, police said.
The German shepherd, called Zinzan, suffered severe blows when his head was slammed in a door at house in Edgware, north London, in a chase in October.
The dog has since fully recovered.
His handler, PC Dan Revill, said: "He had severe bruising to his head and neck and was on the strongest painkillers available while he recovered."
'Trained to abseil'
The court heard that on 13 October, several police officers were in the area of Symphony Close when they were alerted by a member of the public to Sklepkowski hiding in a bush.
A chase ensued and the dog was released near the entrance to a flat in Viola Court.
The door was slammed on his head and neck repeatedly and a struggle ensued between Sklepkowski and police.
PC Revill added: "Zinzan was reluctant to leave me for the first week but we gave him a week of light training to ease him back to work and he has now returned to full duties.
"Zinzan is one of only seven police dogs that are trained to abseil in firearms situations. He is a pretty chilled out dog."