London 2012: Parking fines to 'rise to £200 in Olympics'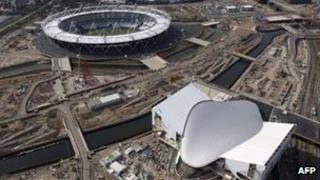 A proposal to raise parking fines by about 50% during the Olympics has been broadly agreed, the BBC has learned.
The scheme, drawn up by Games organiser Locog, would see some fines in London rise from £130 to £200.
The BBC understands the plan - covering roads on the Olympic Route Network and areas close to venues - is now broadly agreed but awaits final confirmation.
Campaigners said it was a money-making scam but Locog insisted it would ensure disruption was "kept to a minimum".
The Olympic Route Network consists mostly of main roads, but spread right across the capital - not just in the Olympic boroughs.
In addition, the fines would cover a series of newly created parking zones around Olympic venues across the capital, from the Olympic Park in Stratford to Wembley, Greenwich, Earl's Court and St John's Wood.
Paul Pearson, who campaigns against excessive parking fines, said: "Transport for London and local councils are using the Olympics as an excuse to extract even more money from motorists - who have already paid towards the Games.
"It is simply wrong - many motorists will receive fines due to new controls introduced suddenly.
"£130 is a massive deterrent as it is, especially in these times."
It is also proposed to make residents apply for parking permits in the zones.
If they do not get the permits they will face the new fines.
Mr Pearson said it was unfair to make residents go through the hassle of applying for the permits.
He added that it would be easy for them to fall foul of the new rules by mistake and be left with a fine.
The BBC also understands there is disquiet among the capital's councils that the full details of the scheme still have not been finalised by Locog with time running out.
One concern is how the new zones would be enforced, something yet to be confirmed.
Catherine West, leader of Islington Council and chairwoman of London Councils' transport and environment committee, said: "The boroughs are working very hard to help businesses and residents plan for any local disruption caused by the Olympics.
"Understanding the arrangements for parking and traffic control will be a crucial part of this.
"We have expressed concerns about the delays to these plans as we all want to minimise the impact this could have on residents and businesses."
A Locog spokesman said the proposals "will help protect local residents and businesses around our venues and will ensure they can go about their day-to-day business during the Games".
He said: "They will help to ensure that disruption to locals is kept to a minimum.
"The plans are being released now and over the coming months to allow residents and businesses to plan ahead."