Thieves target elderly couple on east London bus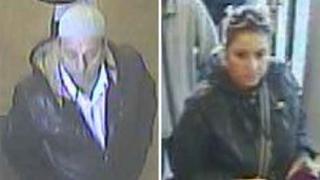 Police have released CCTV images of suspects after thieves targeted an elderly couple on an east London bus.
Up to five suspects followed the husband and wife, aged 82 and 75, from a Barclays Bank on Whitechapel Road at about 13:10 GMT on Thursday 20 October.
The victims boarded a route 205 bus on which one distracted them with a large map while another stole their money.
Met Police officer Pc Graham Pringle said: "This is a despicable crime. We will do all we can to track them down."
Four of the suspects are described as follows:
A male, aged about 40 years old, wearing a prayer cap and dark clothing
A female, aged about 30 years old, with dark pony-tailed hair, wearing glasses on her head, a black jacket and blue jeans with white trainers
A female aged about 30 years old with dark hair in a ponytail which was inside a white baseball cap.
A male, aged in his late 20s or early 30s, with long dark black hair, who was thin in appearance and wearing a purple hooded top with a grey hood attached to it.
Pc Pringle said: "We hope that someone will recognise the images and contact police so that those responsible can be brought to justice."