Christmas shopping: Oxford and Regent Street closed to traffic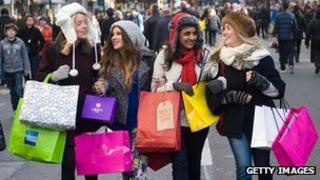 Two of London's busiest streets have been closed to traffic for the weekend to try to encourage people to head into the West End to shop for Christmas.
Vehicles have been barred from Oxford Street and Regent Street on selected dates in recent years.
However, there was an unplanned closure last weekend amid fears of crushes.
There were queues outside major department stores as soon as they opened on Saturday, the association which represents 600 businesses said.
"The cold weather is forcing people into the shops," said a spokeswoman for the New West End Company.
Events are taking place around London to try to drum up festive trade.
Fairs and Christmas markets are being held throughout the weekend.
And many town centres in London's suburbs are staging special promotions to encourage customers to shop locally, rather than going into the West End or large malls.
Horse-drawn carriages
Many retailers have offered large discounts on goods and are keen to lure customers away from websites as they buy their Christmas presents.
Roadworks near Bond Street Tube station had narrowed the space available in Oxford Street and the road was shut on 3 and 4 December to ensure pedestrians were not hit by traffic.
The hoardings have now been removed until January, when major construction work for the Crossrail train network will continue.
The Shop West End VIP Weekend includes vintage buses staging live music.
And a horse-drawn carriage is transporting shoppers up and down Regent Street.