Oxford Street's works close for Christmas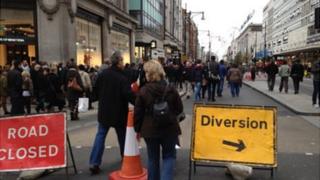 Roadworks in London's Oxford Street are to be suspended over Christmas to help ease overcrowding.
The area from Oxford Circus to Portman Street was shut for parts of Saturday and Sunday because of fears for shoppers' safety.
Westminster City Council said hoardings and streetworks will be removed later.
Some work will be completed out of normal shopping hours, before the streetworks are put back in place on 9 January.
'Comfortable journey'
Currently, there is major construction work near Bond Street London Underground station for Crossrail, which will run from Maidenhead in Berkshire to Brentwood in Essex and Abbey Wood in south-east London, via central London.
The measures are being carried out with the help of Transport for London, New West End Company and the Metropolitan Police.
Martin Low, Westminster City Council commissioner of transportation, said: "These measures will help ease pedestrian congestion along Oxford Street. We are committed to ensuring the safety of Christmas shoppers and that they have as comfortable a journey as possible this festive season.
"We welcome these collaborative measures and will be keeping a close eye on them."