Protest against Hammersmith Town Hall plan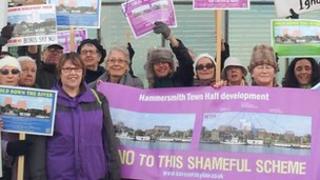 Campaigners against a redevelopment in west London have gathered outside City Hall urging Mayor Boris Johnson to reject the plan.
Save Our Skyline said the Kings Street Redevelopment was being built at the cost of affordable housing.
Hammersmith and Fulham Council has backed the plan, which will also see 290 flats, a supermarket and a square.
The mayor will now decide whether to grant or refuse permission for the plan, which also includes a town hall.
A spokesman for Mr Johnson said the mayor intervened after the council passed the planning application as it has the potential to significantly impact his London Plan, which sets out his vision for housing, planning, environment and the landscape of the capital.
Hammersmith and Fulham Council has previously said that demolishing the "ugly and costly town hall extension" would save £18m a year and regenerate "a run-down corner of the borough".
The proposed public-private partnership project would not cost taxpayers anything, it added.
Save Our Skyline said up to 70 protesters, including Vanessa Redgrave, joined the demonstration outside City Hall.
Carlo Nero, a campaigner, said he hoped the mayor would refuse permission and "do what is just and right".
"This scheme means affordable housing and a local cinema would be demolished, and land-grabbing of up to a third of Furnival Gardens for a footbridge connecting the luxury flats to the river," he said.
"The council passed a scheme for their new offices at the expense of the local community."
The group, which represents residents and 20 local groups, said more than 8,500 people had signed petitions opposing the plan, which will see buildings owned by Pocklington Trust, a charity for visually impaired people, demolished.