Queen's Hospital: Delay in resuming maternity services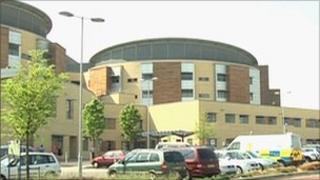 A hospital in east London criticised by a health watchdog for putting patients at risk will continue to turn away women who need planned Caesarean sections, according to NHS bosses.
Queen's Hospital, in Romford, stopped non-urgent procedures eight weeks ago after the Care Quality Commission (CQC) identified "serious problems".
Five women died in the hospital's maternity ward over 18 months.
The NHS Trust said improvements were being made.
'Ease pressure'
At a meeting at Ilford Town Hall on Tuesday, Dr Jane Moore, director of public health and quality for NHS Outer North East London, gave no date for when elected Caesareans will be performed again at Queen's Hospital.
For the past eight weeks women needing this surgery have had to go to Homerton University Hospital in Hackney.
Alwen Williams, chief executive of NHS Outer North East London which supervises Barking, Havering and Redbridge University Hospitals NHS Trust, told Redbridge councillor Andy Walker this was to "ease pressure" on the trust and to "provide headroom to address a number of the most urgent concerns".
In a letter to Mr Walker she added: "We also needed to be sure that services never became so busy as to be unsafe."
'Inconvenient and concerning'
Mr Walker said it was a journey of up to two hours from Romford to Homerton University Hospital in Hackney which was "disruptive" and an expense for people on modest incomes.
He added: "Other hospitals perform planned C-sections, why can't Queens?"
Pat Gould of the Royal College of Midwives, said she could understand how "inconvenient and concerning it is for local women" but that safety was the priority.
A CQC review began in June after the deaths of Tebussum Ali and Violet Stephens at Queen's Hospital.
Mrs Stephens died in April and Ms Ali and her baby died in January.
A spokeswoman for Barking, Havering and Redbridge University Hospitals NHS Trust said over the past eight weeks newly recruited midwives had been "fully inducted" and the level of one-to-one care for women in labour had been improved.
She added: "We are also planning to open up capacity for local women, subject to commissioner approval, in King George Hospital."