London 2012: Call for end to Dow sponsorship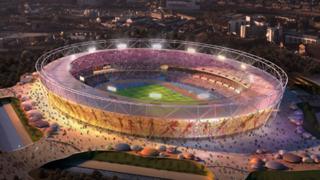 The Indian Olympic Association is to ask for London 2012 to drop Dow Chemical as a sponsor.
The world's second largest chemical manufacturer is funding a £7m fabric wrap for the Olympic stadium in east London.
Dow merged with a company whose subsidiary ran the Bhopal pesticide plant - the site of one of the world's worst industrial disasters in 1984.
The games organisers insist they are comfortable with Dow's sponsorship.
But IOA acting president VK Malhotra said the sponsorship by Dow was unacceptable.
He said the company was linked with another which was responsible for killing thousands of Indian people.
The IOA stopped short of boycotting the games.
Campaigners say the chemical gas leak and its fallout killed 25,000 people, and that local people continue to be affected.
Last month London 2012 chairman Sebastian Coe said: "I absolutely stand by our procurement process and Dow were by a distance the most sustainable solution to our wrap and we are comfortable with that.
'Awful legacy'
"Dow were never the operators or the owners of that chemical plant in 1984, nor were they the operators or the owners of the plant in 1989 when the final settlement was agreed."
Bhopal protesters burned an effigy of Lord Coe on the 27th anniversary of the disaster.
Dow argues Union Carbide's £288m ($470m) settlement for those affected by the tragedy - which was paid in 1989 - is fair and final.
Its UK managing director Keith Wiggins said it would be judged by what it did in future, not the "awful legacies" of the past.
"It's acknowledged the industry has made mistakes in the past," he said. "But the world without good chemistry in the future would be a poorer place."