Soho power cut: Shops, bars and restaurants closed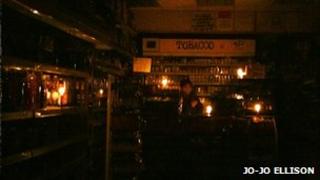 A power cut left parts of London's Soho without electricity, causing shops and restaurants to close.
The power went off at about 13:00 GMT, closing Oxford Circus Tube Station, which reopened after 15:40 GMT.
UK Power Networks, which runs the local grid, said the majority of customers had now had their power restored but engineers were still at work.
Most of Old Compton Street and several side streets leading on to it were without power until 22:15 GMT.
In total some businesses had been without power for more than 10 hours, on one of the busiest trading days of the year.
Some restaurants estimated losses at more than £10,000.
About 137 properties were affected by the power cut, which happened close to Oxford Circus.
'Trading again'
Earlier, trains were unable to stop at the Tube station because its escalators and communications systems were not working.
A UK Power Networks spokeswoman said: "We pass on our apologies, again, for the inconvenience this incident has caused.
"This was a complex fault to resolve and UK Power Networks engineers have been doing everything possible to safely restore power as quickly as possible."
Hundreds of people voiced their displeasure on Twitter.
One user wrote: "Power cut in Soho, London. Spooky walking through it and seeing shops closed in the afternoon."
Another added: "Oxford Circus station is closed. Of much greater concern, all the pubs are shut."
Colin Barrow, leader of Westminster Council, earlier said he was "extremely concerned".
Some small shops were serving customers by candlelight, but restaurants and pubs had closed.
Old Compton Street is one of the main drags of Soho and usually thronging with people on a Friday evening.
Gerry's Wines and Spirits on Old Compton Street carried on trading by candlelight.
But manager Allen Daly said: "I am absolutely furious - this happens every year at Christmas time.
'Cancel bookings'
"We have sold one 10th of what we would normally do."
He continued: "It's the modern era - yet we've had to write every sale down.
"It'll take three hours tomorrow to ring everything through."
Cherie Lust-Robinson, general manager of Med Kitchen, on Old Compton Street, said the restaurant had had to cancel bookings which she estimated might have cost them £8,000.
She said: "It's ruined what would be the busiest Friday of the whole year. That's not ideal.
"We had to cancel several parties and send them to our other branches."
But one of her chefs added: "All the chefs are very happy - no more work today."
Georgios Peppas, manager of Cay Tre restaurant on Dean Street, said it had cost him more than £10,000.
He added: "This has ruined my Christmas."
New West End Company, which represents retailers in Oxford Street, Regent Street and Bond Street, said electricity supplies had been disrupted for "just under an hour" and shops were now trading again.