Transport for London gives motorcyclists bus lane access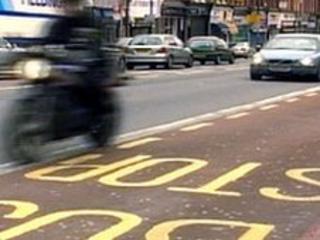 Motorcyclists are set to be given permanent access to bus lanes on the red routes in central London.
Transport for London (TfL) said the move would help smooth traffic flow and improve efficiency on the roads.
It said two trials showed collision rates in bus lanes and the number of motorcyclists speeding had fallen.
However, Jenny Jones, London Assembly Green party member, said the measure - which comes into force from 23 January - was at the expense of cyclists.
The decision to allow motorcyclists access to TfL's bus lanes was made following two 18-month trials.
The first trial, which took place between January 2009 and June 2010, looked at how motorcyclists used bus lanes, along with emissions levels.
It found there was an increase in the rate of motorcyclist collisions, predominantly with cars turning into or out of side roads on routes where motorcyclists had access to bus lanes.
However, an early independent review concluded that collision rates in bus lanes in the second trial fell by 5.8% for motorcyclists and by 8.5% for cyclists when compared to the first trial.
'No safety issues'
The second trial, which is due to end on 23 January, also allowed motorcyclists to use bus lanes, but examined what would happen if speed limits were enforced.
The trial has so far found the average speed for motorcyclists in bus lanes has fallen by 6.5%, and the number of bikers exceeding the speed limit has fallen by 10% to 41%.
Ben Plowden, TfL's director of Better Routes and Places, said: "The two trials have shown reduced journey times and environmental benefits with no significant safety issues thrown up for motorcyclists and other vulnerable road users."
However, Ms Jones said: "Motorbikes don't belong in bus lanes.
"The mayor has made good on his manifesto promise at the expense of cyclists, who will feel less safe with motorbikes speeding past them. If he won't change his mind, he must make sure road safety enforcement is stepped up."