Men jailed for life for murder of love rival in Vauxhall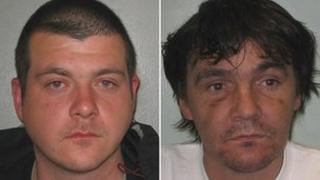 A man who tortured and murdered a man who was in a relationship with his ex-girlfriend has been jailed for life and told he will serve at least 30 years.
Anthony Bates, 36, was punched, kicked, burnt with a poker and scalded with a hot sugary liquid at his flat in Fentiman Road, Vauxhall, in February.
Gary Speight, 31, of Pimlico, was angry about Mr Bates' relationship with his former partner, the Old Bailey heard.
Speight and Dean Swift, 44, of no fixed address, were convicted of the murder.
Swift was also jailed for life with a minimum term of 28 years. Both men denied murder.
'Sadistic pleasure'
Judge Charles Byers described the killing as a "brutal and callous murder".
He said: "Committed over a long period during the course of one day, and causing the deceased Anthony Bates to die in what was described by one expert witness as exquisite pain, I'm quite satisfied that you tortured him and that you tortured him for your own sadistic pleasure."
The victim suffered broken bones and brain damage after being punched, kicked and stamped on. He also had knife wounds on his neck. His body was found in the kitchen.
Mr Bates told his sister that his girlfriend's ex-partner was "threatening to kill him" and had even left London for a time, the jury heard.
A third defendant Corrina Lowe, 28, of no fixed address, was cleared of murder.
In a victim impact statement read in court, the victim's sister Sally Anne Smith said: "Nothing could have prepared me for the catalogue of inhumane abuse these people inflicted on my poor brother.
"What makes it worse is that I know Anthony would not have done anything to provoke this attack and would not have even fought back."