King's Cross road network set to be reviewed by TfL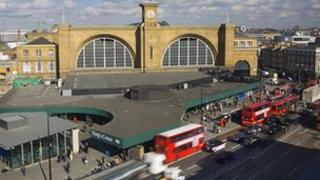 The road network around King's Cross in London is to be reviewed following the death of a cyclist.
Transport for London (TfL) is looking at how road users including pedestrians and cyclists travel through the area.
They will also look at whether any improvements can be made at the York Way junction with Grays Inn Road, where a cyclist died in October.
The review, which will start in the spring, will also look at whether to restore two way traffic to the area.
It has also been announced that after a separate review, pavements are to be widened and advanced stop lines for cyclists are to be introduced around the station.
Although there will be no significant changes to the original scheme in the short term, TfL will also be further widening the approach to York Way junction to provide additional space for road users and cyclists through the junction.
Work will begin during the Christmas period and the pedestrian improvements will be completed by April, ahead of the London 2012 Olympic Games.