Hearing Charles Dickens's voice at Christmas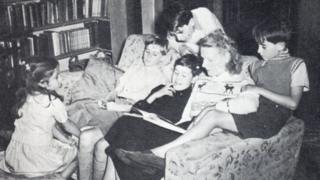 The picture may be grainy, but the spell cast by Dickens's Christmas Carol is unmistakable.
Yet this is no ordinary family absorbed in the great man's most festive tale.
For - in more ways than one - the words are coming straight from the mouth of Charles Dickens himself.
It is 1950, and the narrator is Monica Dickens, great-granddaughter of the Victorian age's most revered novelist.
For charity, an enhanced e-book of her narration has just been released, the proceeds going to the Samaritans.
With the theme of redemption that runs through the tale, it seems a fitting choice.
The little girl on the left is Mary Dickens - now Mary Danby, and a novelist in her own right.
"Imagine if you wrote something that in 158 years still had so much relevance," muses Charles Dickens's great great granddaughter. "No-one can read it without understanding its meaning, being touched.
"It's about the power of redemption."
The image captures a Dickens family tradition, alive and well a century after the story was penned: a December 25th narration of A Christmas Carol.
As a child Monica Dickens, a writer who died in 1992, had listened spellbound as her grandfather indulged in the rite.
And that grandfather had learned the recitation from Charles Dickens himself.
"Christmas was a big event in the Dickens household, and one vital ingredient was Charles Dickens's reading of A Christmas Carol." explains Mary.
"My aunt's grandfather heard it from Charles Dickens himself, and he carried on the tradition. My aunt grew up with it.
"She tried to read it in the same way - so when you hear it being read that is as close to the voice of Dickens as you can get."
So what was it like growing up in the shadow of a face that launched a thousand GCSE questions?
"In my family they think you are a bit odd if you haven't written a book," Mary admits cheerfully.
"When I was growing Dickens's desk was there, and his chair.
"We weren't supposed to sit it in but we did anyway - we'd sit there and pretend that we too had genius."
'Hooded eyes'
The Dickens clan today is a formidable and well-organised beast; almost 200 of them are expected at a service next year to mark the bicentenary of his birth.
"Some of my cousins definitely have Dickens's hooded eyes," chuckles Mary. "Although I'd hope there's not a resemblance to me!"
But what do the family today think of Dickens the man, the father and the uncle?
"He was a tremendous humanist," says Mary. "But when it came to his own family he was not nearly as nice.
"He had 10 children but he was complaining that his wife was always pregnant - and he took a mistress too.
"But I imagine he was tremendous fun. He was called 'the guv'nor' within the family."
Mary happily admits she has not read the entire Dickens oeuvre.
"No of course not," she chides. "When we were young we used to read comics based on Dickens's stories, so if anyone asked us about them it would be 'Mr Micawber this, Mr Micawber that.
"We hadn't actually read them!"
Forgivable, given the prolific output of Dickens, who lived in London for most of his career. That said, her aunt's back catalogue would take some reading too.
Monica Dickens wrote more than 40 books in her lifetime - and still found time to start the Samaritans' first US branch.
It was to raise money for the centre in Cape Cod, Massachusetts, that the recording was made in the 1970s.
'Extraordinary legacy'
Stephanie Duncan, digital media director of Bloomsbury Publishing, which is releasing the full recording, said: "Christmas can be happy and difficult in equal measure.
"Charles and Monica Dickens recognised this and both have left an extraordinary legacy affirming the redemptive power of giving.
"Proceeds of her recording will benefit Samaritan crisis lines, support for those who have lost someone to suicide and community outreach programs."
"She was a wonderful, wonderful person," remembers Mary.
A Christmas Carol tells the story of Scrooge, the elderly and uncharitable miser who finds redemption on Christmas Day.
And it was Christmas Day when Monica Dickens, who gave half her life to charity, died at 77.
It is the sort of eerie circuitousness that Charles Dickens, with his keen appreciation of the supernatural, would surely have revelled in.